To align your teeth or eliminate malocclusion at the NikaDent clinic.
Orthodontics is a specialty of dentistry that deals with the diagnosis, prophylaxis and correction of improper disposition of teeth and closure of the upper and lower jaws. An orthodontist dentist specializes in eliminating pathologies such as malocclusion and crookedly growing teeth. A person with such pathologies rarely smiles and behaves constrainedly.
The dental clinic NikaDent in Kropyvnytskyi will help you to get rid of such pathologies.
Our orthodontist will straighten crookedly growing teeth, relieve malocclusion, and make your smile beautiful!
A beautiful smile is a symbol of health. But unfortunately, not everyone can boast of their healthy smile with snow-white and even teeth.
Malocclusion has a significant effect on pressure during chewing, which leads to problems with teeth and digestion. The uneven disposition of teeth and their crowding make it impossible to carry out a full and effective cleaning of the oral cavity. Most affected temporo-mandibular joint. In the future, age-related changes can lead to frequent headaches, tinnitus, crunching when chewing and opening the mouth.
Today, the use of modern technologies in orthodontics allows achieving positive results in both aesthetic and functional fields. Correction of malocclusion takes from a year to several years. Timing depends on the situation, the clinical picture and the desired result.
At the NikaDent dental clinic in Kropyvnytskyi, our specialists will conduct a full examination, make dentitions and help you choose the best treatment option.
To correct malocclusion and align the dentition, the maximum result can be achieved with the help of braces systems and various kinds of orthodontic appliances that are necessary for intermediate procedures.
Braces are non-removable structures consisting of several elements (brackets, metal arch, elastics). Under moderate and prolonged pressure of the orthodontic arch, the teeth change their position.
The latest generation bracket systems have the following advantages: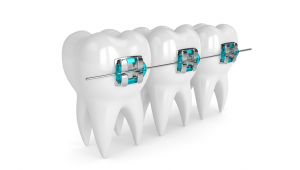 Do not injure the mucous membrane of the gums;
do not damage tooth enamel;
they are small in size and have an aesthetic design;
do not interfere with the correct pronunciation.
But what we can offer you to make your smile beautiful is to make an appointment with us and take the first step towards a healthy smile!
Only the best and highly qualified doctors, as well as the latest equipment, are waiting for you at NikaDent Clinic. Check out all of our services.